SAN FRANCISCO — One morning in November 2003, 15 Dodge & Cox senior managers gathered in a conference room here to decide an issue brewing for years: Was it time to close the flagship Dodge & Cox Stock Fund to new investors?

For months, senior managers had stood in the hallways and gathered in glass-paned offices, questioning what long had been a point of pride in the mutual-fund world: huge sums of money pouring in for investment. It became "a water-cooler kind of issue," recalls Kenneth Olivier, the firm's president.

. . .

Dodge also faces some other issues: In December, longtime Chief Investment Officer John Gunn became chief executive, and a new president and executive vice president were named. Another CEO switch could occur when Mr. Gunn turns 65 in 2008. That would be a relatively large amount of turnover for a firm that has had only five CEOs in its history.

. . .

. . . , Mr. Gunn often speaks at mutual-fund forums and investor conferences. The ruffled-hair Mr. Gunn resembles a college professor, wearing gray pants with yellow pinstripes, a light orange shirt and a yellow tie with zebras one recent day. His feet on a chair, he quoted 20th century Austrian economist Joseph Schumpeter when talking about media stocks, noting "capitalism is revitalized by waves of creative destruction." Ancient Asian artifacts, like a pink stone statue from a 14th-century tomb, adorn the office.

As for the flagship fund's future, Mr. Pohl said as he and Mr. Gunn sat at a conference-room table, "the fact that we have outperformed" since closing to new investors, "I think is proof" that the decision was made at the right time.

"So far," Mr. Gunn added, half-jokingly.
For the full story, see:
DIYA GULLAPALLI. "When Mutual Funds Don't Want Your Cash Dodge & Cox Says No To Many New Customers; Angst at the Water Cooler." The Wall Street Journal (Mon., May 1, 2006): R1 & R?.
(Note: ellipses added.)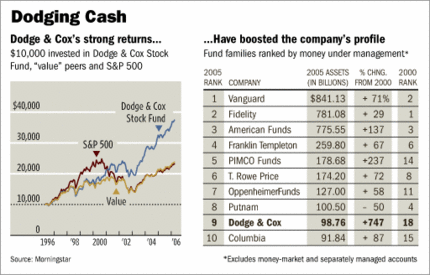 Source of graphic: online version of WSJ article cited above.