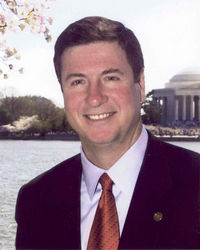 Virginia Senator George F. Allen. Source of photo: http://en.wikipedia.org/wiki/Image:George_Allen_official_portrait.jpg
Mr. Allen says he has "a libertarian sense." He describes himself as more in sync with Thomas Jefferson and Ronald Reagan than with George Bush. "I'm one who dislikes limits. I don't like restrictions. I like freedom. I like liberty. Unless you're harming someone else, you leave people free."
For the full interview, see:
FRED BARNES. "THE WEEKEND INTERVIEW with George Allen; The Virginian." The Wall Street Journal (Sat., April 22, 2006): A8.