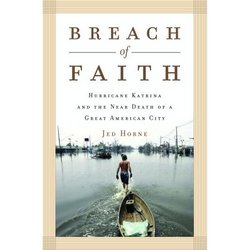 Source of book image: http://www.amazon.com/gp/product/1400065526/sr=8-1/qid=1153368329/ref=sr_1_1/104-2835260-2878345?ie=UTF8
The levees are built by the Army Corps of Engineers, with the Orleans Levee District enjoying local control. It is instructive to learn that the former president of the levee district bought himself an inflatable rubber craft a decade ago. As Mr. Horne writes, some levees gave way "even before water reached the heights the walls were meant to contain and, in some cases, after it had begun to ebb."

Beset by outsourcing, brain drains and budget cuts, the Army Corps has been skimping for years. This spring, its commanding officer conceded that there had been problems with flood-wall engineering. But the government hardly has a monopoly on blame. As Mr. Horne notes, the corps had intended to build a flood barrier at the mouth of Lake Pontchartrain on the city's northern border ("an idea that would, after Katrina, suddenly seem like the highest sort of wisdom"), but the plan was scrapped when environmentalists sued.

By the mid-1970s, "the completion date for the upgraded flood defense that Congress had mandated for New Orleans had already been pushed back thirteen years," Mr. Horne writes, and one section was still unfinished as Katrina hit. Apathy and indifference "turned government work into a jobs program for people who couldn't make it in the private sector or who couldn't be bothered to try."

Government handouts of a different sort followed the hurricane: After a slow start with its relief effort, FEMA helped countless hurricane victims who were truly in need, but the agency also began cutting checks for almost anyone who asked. "An initial $2000 would turn up in the mail within a few days of registering online or placing a call," Mr. Horne writes. In fact, the agency "rolled over for millions in fraudulent or duplicate claims without checking to see that the applicant had offered a vacant lot or a nonexistent address as his or her residence." Perhaps that was easier than risking further accusations of bias.
For the full review, see:
TOM BETHELL. "Books; Levying the Blame; Nearly a year after a hurricane ravaged a city and the finger-pointing began, two books dissect the destruction and the government's response." The Wall Street Journal (Sat., July 15, 2006): P8.
The citation for the Horne book is:
Horne, Jed. Breach of Faith. Random House, 2006. (412 pages, $25.95)