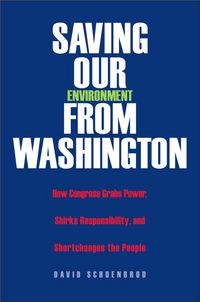 Source of book image: http://yalepress.yale.edu/yupbooks/book.asp?isbn=0300106211
From a useful review of a book on environmental policy:
(p. D8) The striking aspect of his new book is the story he tells of his own journey from supporter to critic of the Spaceship Earth theory of environmental law. His first step toward disenchantment was seeing, as an NRDC lawyer, the EPA's personnel up close. "The EPA had not come from Starfleet Academy," he notes, "but rather was an amalgam of the federal government's preexisting environmental programs," then part of the Department of Health, Education and Welfare. In short, the bureaucrats were real people with real incentives, just like politicians and voters—but unanswerable to the public.
The next educational step, for him, was the decision to buy a farm in upstate New York. Mr. Schoenbrod was surprised by the wisdom of his rural neighbors. He movingly describes how a local logger changed his mind about forestry practices by showing him, among much else, that sometimes cutting down particular trees can benefit the forest. (It sounds like a simple observation, but it is the kind of thing that bureaucrats, with their sweeping mandates, often don't allow for.) Mr. Schoenbrod also looks at the local reaction to a number of environmental decisions, such as the EPA's ordered dredging of the Hudson River because of the small risk of PCBs. The intent was to protect the health of local communities, but upstate landowners opposed the dredging by a ratio of more than 2 to 1.
For the full review, see:
John Berlau. "Bookshelf; A Law Unto Themselves." The Wall Street Journal (Thurs., August 18, 2005): D8.
The full reference to the Schoenbrod book:
Schoenbrod, David. Saving Our Environment from Washington: How Congress Grabs Power, Shirks Responsibility, and Shortchanges the People. Yale University Press, 2005.