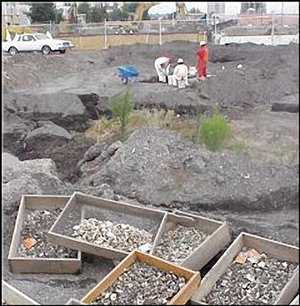 Researchers at work at the Emeryville Shellmound. Source of photo: online version of The Washington Post article cited below.
Like the Europeans who came later, the first Americans apparently had a propensity for killing and eating any animal they could lay their hands on without giving a lot of thought to the future, judging by the bones they left behind at one notable site.

"The general public probably buys into the 'Pocahontas version' that Native Americans were inherently different and more in tune with nature," said University of Utah archaeologist Jack Broughton. "The evidence says otherwise."

After studying thousands of animal bones found in a garbage heap on the shores of San Francisco Bay, Broughton concluded that Native Americans living in an area where Emeryville is now located hunted several species to local extinction from 600 B.C. to A.D. 1300.
For the full story, see:
Guy Gugliotta. "SCIENCE Notebook; Indians Depleted Wildlife, Too." The Washington Post (Monday, February 20, 2006): A09.
A more detailed summary of the research can be found in a University of Utah press release:
"Early California: A Killing Field; Research Shatters Utopian Myth, Finds Indians Decimated Birds."
The full, academic version of the research can be found in:
Broughton, Jack M. Prehistoric Human Impacts on California Birds: Evidence from the Emeryville Shellmound Avifauna, Ornithological Monographs, 2004.