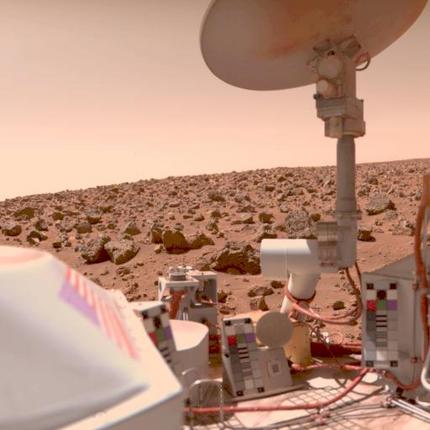 One of the Viking landers on Mars. Source of photo: http://www.msss.com/mars/pictures/viking_lander/viking_lander.html
When scientists announced Monday that the search for life on Mars 30 years ago may not have been quite the bust it has long been portrayed, it didn't mean that the mission had missed any microorganisms, let alone advanced life forms. But it did underline the growing sense that decades of assumptions about extraterrestrial life need serious re-examination.

In 1976, scientists studying data sent back by the Viking landers were quick to dismiss life on Mars. . . .

. . .

Some three decades later, more-sophisticated instruments have shown that the Vikings couldn't have detected organic molecules even if any were present. When scientists fed soil from the Atacama Desert of Chile and Peru, and the Dry Valleys of Antarctica, experiments like those the Vikings conducted came up empty. Yet, new techniques show the samples contained 10 to 1,500 micrograms of carbon per gram.

"If we knew this 30 years ago, our interpretation of the Viking results would have been very different," says Rafael Navarro-González of Mexico's National Autonomous University, who led the study published in Proceedings of the National Academy of Sciences.
For the full story, see:
SHARON BEGLEY. "SCIENCE JOURNAL; Scientists Revisit Data On Mars With Minds More Open to 'Life'." The Wall Street Journal (Fri., October 27, 2006): B1.