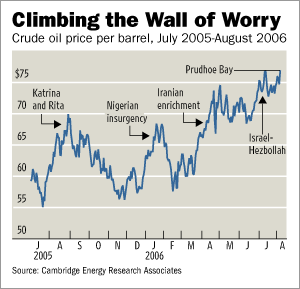 Source of graphic: online version of the WSJ article cited below.
Despite fears of "running out" of oil, Cambridge Energy Research Associates' new analysis of oil-industry activity points to a considerable growth in the capacity to produce oil in the years ahead. Based upon our field-by-field examination of current activity and of 360 new projects that are either underway or very likely, we see capacity growing from its current 89 mbd to 110 mbd by 2015, a 25% increase. A substantial part of this growth reflects the advance of technology, i.e., the rapid growth in "non-traditional" hydrocarbons, such as from very deep offshore waters, Canadian oil sands, and liquids made from natural gas. (We are not counting in this increase the additional supplement that will come from ethanol and other fuels made from plants.)

There are important qualifications, however. First, this is physical capacity to produce, not actual flows, which, as we have seen over the last year, can be disrupted by everything from natural disasters to government decision, to conflict and geopolitical discord. Second, while prices are going up rapidly, so are costs; and shortages of equipment and people can slow things down. Third, greater scale and technical complexity can generate delays. Still, a 25% increase in physical capacity by 2015 is a reasonable expectation, based upon today's evidence, and that would go a long way to meeting the growing demand from China, India and other motorizing countries.

Admittedly, it may be hard to conceive of this kind of increase when oil prices are climbing the wall of worry, when each new disruption reverberates around the world, when Iranian politicians threaten $100 or $250 oil in the event of sanctions, and when so many geopolitical trends seem so adverse. All this underlines the fact that while the challenges below ground are extensive, the looming uncertainties — and risks — remain above ground.
For the full commentary, see:
Daniel Yergin. "Crisis in the Pipeline." The Wall Street Journal (Weds., August 9, 2006): A10.