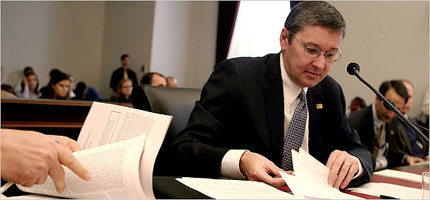 N. Gregory Mankiw, former chair of W.'s Council of Economic Advisors. The media, most Democrats, and some Republicans, skewered Mankiw in 2004 for simply and clearly stating the truth about outsourcing. Source of photo: online version of the NYT article cited below.
In December 2005, the McKinsey Global Institute predicted that 1.4 million jobs would be outsourced overseas from 2004 to 2008, or about 280,000 a year. That's a drop in the bucket. In July, there were 135.35 million payroll jobs in the United States, according to the Bureau of Labor Statistics. Thanks to the forces of creative destruction, more jobs are created and lost in a few months than will be outsourced in a year. Diana Farrell, director of the McKinsey Global Institute, notes that in May 2005 alone, 4.7 million Americans started new jobs with new employers.

What's more, the threat of outsourcing varies widely by industry. Lots of services require face-to-face interaction for people to do their jobs. That is particularly true for the biggest sectors, retail and health care. As a result, according to a McKinsey study, only 3 percent of retail jobs and 8 percent of health care jobs can possibly be outsourced. By contrast, McKinsey found that nearly half the jobs in packaged software and information technology services could be done offshore. But those sectors account for only about 2 percent of total employment. The upshot: "Only 11 percent of all U.S. services job could theoretically be performed offshore," Ms. Farrell says.

Economists have also found that jobs or sectors susceptible to outsourcing aren't disappearing. Quite the opposite. Last fall, J. Bradford Jensen, deputy director at the International Institute of Economics, based in Washington, and Lori G. Kletzer, professor of economics at the University of California, Santa Cruz, documented the degree to which various service sectors and jobs were "tradable," ranging from computer and mathematical occupations (100 percent) to food preparation (4 percent).

Not surprisingly, Mr. Jensen and Professor Kletzer found that in recent years there has been greater job insecurity in the tradable job categories. But they also concluded that jobs in those industries paid higher wages, and that tradable industries had grown faster than nontradable industries. "That could mean that this is our competitive advantage," Mr. Jensen says. "In other words, what the U.S. does well is the highly skilled, higher-paid jobs within those tradable services."

There is evidence that within sectors, lower-paying jobs are being outsourced while the more skilled ones are being kept here. In a 2005 study, Catherine L. Mann, senior fellow at the Institute for International Economics, found that from 1999 to 2003, when outsourcing was picking up pace, the United States lost 125,000 programming jobs but added 425,000 jobs for higher-skilled software engineers and analysts.
For the full commentary, see:
DANIEL GROSS. "Economic View; Why 'Outsourcing' May Lose Its Power as a Scare Word." The New York Times, Section 3 (Sun., August 13, 2006): 5.