(p. 4) BUSINESS bashing by politicians in America has a long history, including rhetoric far more inflammatory than the denunciations being directed at Wal-Mart this year by some Democrats, who sometimes sound as if they are running against the company instead of another politician.

. . .

The company may not appreciate the honor, but its place in the political debate reflects its revolutionary effect on the American economy.

Put simply, the big winners as the economy changes have often been scary to many, particularly those with a stake in the old economic order being torn asunder.

"Twice as many Americans shop at Wal-Mart over the course of a year than voted in the last presidential election," said H. Lee Scott Jr., the company's chief executive, in a speech to the National Governors Association in February.

Wal-Mart's success reflects its ability to charge less for a wide range of goods. That arguably has reduced inflation and made the economy more efficient. It has introduced innovations in managing inventory and shipping goods.

. . .

But the fact that Wal-Mart has more shoppers than any politician has voters shows that many of those workers — and many people higher on the income scale — find its prices irresistible. That group no doubt includes some of the company's critics.

Previous business targets of politicians have similarly been both popular and reviled. The railroads enabled much of America to prosper, but to many people in the late 19th century they were viewed as villains.

They upset old economic relationships by making it possible to ship goods over much longer distances, thus introducing competition for local businesses and farms.
For the full commentary, see:
FLOYD NORRIS. "THE NATION; Swiping at Industry From Atop the Stump." The New York Times, Section 4 (Sun., August 20, 2006): 4.
(Note: ellipses added.)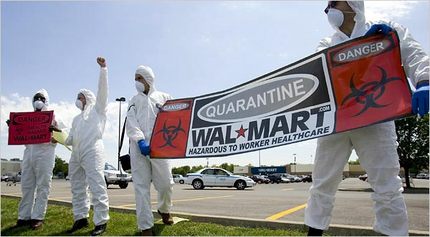 Illinois protesters bashing Wal-Mart during the summer of 2006. Source of photo: online version of the NYT article cited above.