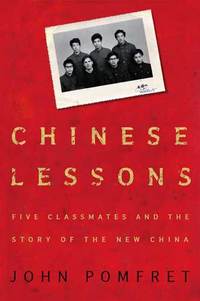 Source of book image: http://www.holtzbrinckpublishers.com/henryholt/Search/SearchBookDisplayLarge.asp?BookKey=1524294
(p. B29) This improbable journey, from Maoist orthodoxy to the entrepreneurial quasicapitalism officially described as "socialism with Chinese characteristics," is the main theme of "Chinese Lessons," but Mr. Pomfret, a reporter for The Washington Post, gives his tale a twist. He tells it not only through his own experiences as a student and journalist but through the life stories of five university classmates, who suffered through the Cultural Revolution as children, found inspiration and hope in the growing democracy movement and lived to see a China that neither they nor their parents could have imagined. . . .
All the lives Mr. Pomfret explores are extraordinary, and each sheds its own light on recent Chinese history. Perhaps the most endearing of his characters is Guan Yongxing, better known as Little Guan, who as an 11-year-old suffered social ostracism after accidentally using a piece of paper with "Long Live Chairman Mao!" on it to wipe herself in the bathroom.

After classmates threw her to the ground, no doctor would treat her dislocated shoulder, leaving her crippled for life. Her father's job as a schoolteacher made the Guan family a prime target for abuse, and Little Guan, rather than endure ridicule and torment at school, picked cotton and sprayed fertilizer on the fields, her back constantly burned by chemicals leaking from the tank on her back. Tough, determined and highly intelligent, she survives and eventually prospers in the new China.

. . .

Zhou Lianchun, called Book Idiot Zhou by a contemptuous Communist Party official, meted out insults and torture as part of a Red Guard brigade. "I did what I was told and, being 11, I liked it," he tells Mr. Pomfret.

. . .

More even than sex, students want just a little bit of the good life that seems to be in reach as China's rulers relax their economic policies. To get it they master a strange kind of doublethink, pledging allegiance to the party and Communist ideals while scheming to start a business.

Book Idiot Zhou, a history teacher by day, jumps into a business partnership to process urine for the pharmaceutical industry. "Several days a week, he taught Marxism, Leninism and Maoist thought and railed against the exploitation of the capitalist class," Mr. Pomfret writes. "The rest of the time he spent as a budding entrepreneur, employing dozens at rock-bottom wages, working the system to enrich himself, his partners and his family."

. . .

His classmates have done well. But their lives, and the China described in "Chinese Lessons," bear a heavy load of suppressed grief, terrible compromises and boundless cynicism. At a new drive-in called the Happy Auto Movie Palace, Mr. Pomfret notices something strange about the concrete slabs underneath his feet. They show the marks of tank treads. The drive-in owner bought them after the government repaved Tiananmen Square.

This strikes Mr. Pomfret as bizarre, but not the owner. "It was a good deal," he says.
For the full review, see:
WILLIAM GRIMES. "Books of The Times; Twisting Along China's Sharp Curves." The New York Times (Fri., August 4, 2006): B29.
(Note: ellipses added.)