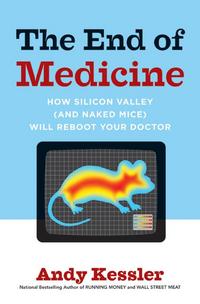 Source of book image: http://www.harpercollins.com/books/9780061130298/The_End_of_Medicine/index.aspx
The problem right now, as Mr. Kessler sees it, is that we fight the "big three" — cancer, stroke and heart attack — with treatment rather than early detection. Cancer cells and blood-vessel plaque can be handled much more easily in the early stages, but we spend most of our money on the later ones. More than 80% of health-care dollars are paid by insurance companies and the government, and neither is especially interested in detecting disease when it first appears. Doctors, regulators, researchers and payers of all kinds are locked into what Mr. Kessler calls — a bit ungenerously — the "cholesterol and cancer conspiracies."

A complicated system of mutual dependency distorts the incentives. "The FDA is like the FCC and Big Pharma is like the regional Bells" is what Mr. Kessler hears from Don Listwin, a former Cisco executive who now heads the Canary Foundation, a Silicon Valley-based effort to promote preventive medicine. In other words, in medicine as in telecom, the big players end up exploiting regulations more than opposing them, if only to preserve their monopolies. The Food and Drug Administration — understandably but narrow-mindedly — wants "cures" for cancer and other diseases. Thus tens of thousands of chemicals are screened, only a handful make it even to Phase I trials, and by the time a new drug is approved a billion dollars has been spent. Even then the new drug may help only 10% of patients.

Yet if someone were to invent a device with a wide, preventive usefulness — say, a nanotech implant that would spot the proteins that indicate the first minute presence of cancer — it would have to go through the same process of billion-dollar testing. Since the government and insurance companies are reluctant to add anything to their repertoire of coverage — and since such a device would be targeted at the much broader pool of people who are not sick — research might well stall in its earliest phases for lack of reimbursement-funding.
For the full review, see:
WILLIAM TUCKER. "Bookshelf; The Art of Navigating Arteries." Wall Street Journal (Tues., July 18, 2006): D6.
A full reference to the book reviewed, is:
Kessler, Andy. The End of Medicine: How Silicon Valley (and Naked Mice) Will Reboot Your Doctor. HarperCollins, 2006.