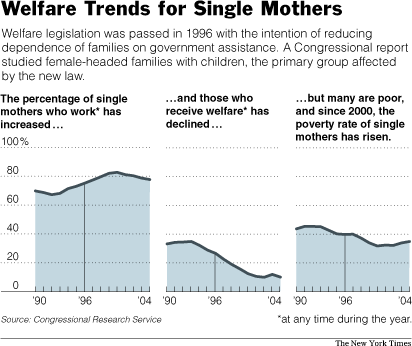 Source of graphic: online version of the NYT article cited below.
WASHINGTON, Aug. 20 — Ten years after a Republican Congress collaborated with a Democratic president to overhaul the nation's welfare system, the implications are still rippling through policy and politics.

The law, which reversed six decades of social welfare policy and ended the idea of free cash handouts for the poor, was widely seen as a victory for conservative ideas. When it was passed, some opponents offered dire predictions that the law would make things worse for the poor. But the number of people on welfare has plunged to 4.4 million, down 60 percent. Employment of single mothers is up. Child support collections have nearly doubled.

"We have been vindicated by the results," said Representative E. Clay Shaw Jr., Republican of Florida and an architect of the 1996 law who was vilified at the time. "Welfare reform was one of the most successful policy changes in our nation's history."
For the full story, see:
ROBERT PEAR and ERIK ECKHOLM. "A Decade After Welfare Overhaul, a Shift in Policy and Perception." The New York Times (Mon., August 21, 2006): A12.