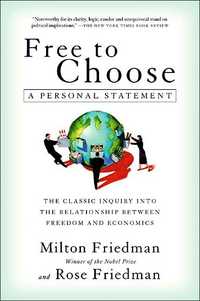 Source of book image: http://search.barnesandnoble.com/booksearch/imageviewer.asp?ean=9780156334600
If, like Mr. Laar, you are only going to read one book in economics, Milton Friedman's Free to Choose, is not too bad a choice:
(p. A23) Philippe Benoit du Rey is not one of those gloomy Frenchmen who frets about the threat to Gallic civilization from McDonald's and Microsoft. He thinks international competition is good for his countrymen. He's confident France will flourish in a global economy — eventually.

But for now, he has left the Loire Valley for Tallinn, the capital of Estonia and the economic model for New Europe. It's a boomtown with a beautifully preserved medieval quarter along with new skyscrapers, gleaming malls and sprawling housing developments: Prague meets Houston, except that Houston's economy is cool by comparison.

Economists call Estonia the Baltic tiger, the sequel to the Celtic tiger as Europe's success story, and its policies are more radical than Ireland's. On this year's State of World Liberty Index, a ranking of countries by their economic and political freedom, Estonia is in first place, just ahead of Ireland and seven places ahead of the U.S. (North Korea comes in last at 159th.)

It transformed itself from an isolated, impoverished part of the Soviet Union thanks to a former prime minister, Mart Laar, a history teacher who took office not long after Estonia was liberated. He was 32 years old and had read just one book on economics: "Free to Choose," by Milton Friedman, which he liked especially because he knew Friedman was despised by the Soviets.

Laar was politically naïve enough to put the theories into practice. Instead of worrying about winning trade wars, he unilaterally disarmed by abolishing almost all tariffs. He welcomed foreign investors and privatized most government functions (with the help of a privatization czar who had formerly been the manager of the Swedish pop group Abba). He drastically cut taxes on businesses and individuals, instituting a simple flat income tax of 26 percent.
For the full commentary, see:
JOHN TIERNEY. "New Europe's Boomtown." The New York Times (Tues., September 5, 2006): A23.