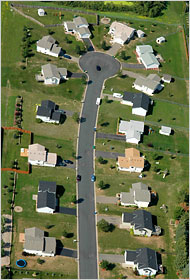 A cul-de-sac in Eagan, Minnesota. Source of photo: the online version of the NYT article cited below.
City planners think they know how other people should live their lives, and the planners believe that they have the right to impose their "knowledge" on others. I believe that there are pros and cons to living in a subdivision with cul-de-sacs, and on balance, I don't like them. But I understand why others might decide differently, and I think they have a right to use their own money to buy into the kind of neighborhood they prefer.
The New York Times ran an interesting article that focused on the debate on cul-de-sacs in Northfield, Minnesota:
. . . here and in other areas across the country, this staple of suburban development is drawing criticism from a growing number of planners and government officials, who say it should become an endangered species.

Highly popular after World War II, the cul-de-sac is essentially a dead-end residential street, often but not always ending with a large circular patch of pavement allowing vehicles to turn around. The form was initially embraced as something that promoted security, neighborliness and efficient transportation.

Homeowners found that the cul-de-sac limited traffic, creating a sense of privacy, while encouraging ties among neighbors, who could hardly avoid one another. Developers liked the cul-de-sac because it made it possible to build on land unsuited to a grid street pattern and because home buyers were willing to pay a premium to live on one.

. . .

Don Mitchell, professor of geography at the Maxwell School of Citizenship and Public Affairs at Syracuse University, grew up on a cul-de-sac in Moraga, Calif., and has seen both sides of the debate. "It's a quiet street that all us kids could play on without too much fear of traffic," he said. "And there was pretty good surveillance by our parents when we were out in the street."

But those advantages can also be disadvantages. "They're quite insular," he said. "They tend to almost induce a circle-the-wagons sort of atmosphere, so anybody becomes a stranger who's on the street. They don't often act like public streets. We always knew when there was someone who wasn't a regular on our street, and yet they had every right to be there."

. . .

Although planners may be turning away from cul-de-sacs, people who actually live on them are willing to fight for them.
For the full story, see:
CARLA BARANAUCKAS. "NATIONAL PERSPECTIVES; Why Some Towns Place Roadblocks on Cul-de-Sacs." The New York Time, Section 8 (Sun., August 27, 2006): 20.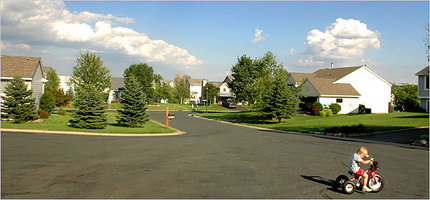 A cul-de-sac in Eagan, Minnesota. Source of photo: the online version of the NYT article cited above.