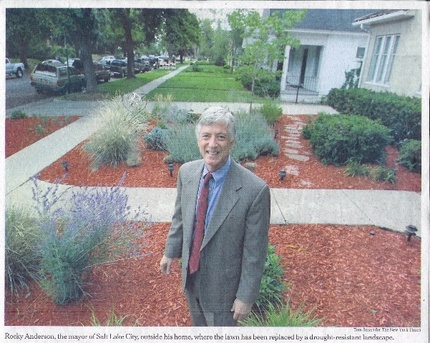 Salt Lake City Mayor Rocky Anderson, whose "xeriscape" yard violates a Salt Lake City zoning ordinance. Source of photo: scan from a paper copy of the NYT article cited below.
SALT LAKE CITY, Aug. 21 — Covered as it is by red bark and dotted with ornamental grasses and purple sage shrubs, the front yard of Salt Lake City's mayor stands out in contrast against the other, uniformly green lawns on the tree-lined street.

Not only is Mayor Rocky Anderson's yard distinctive, though. It is also illegal, one of hundreds of drought-friendly yards and gardens here that are in violation of zoning ordinances.

In light of a five-year drought that meteorologists say ended last year, Mr. Anderson is one of a growing number of homeowners in desert cities across the West who have traded in their manicured lawns and colorful flower beds for ground cover and gardens that require little water.

In Salt Lake City, though, all front yards must be completely covered with flat green grass, which needs to be watered often to keep it from turning brown and strawlike. Although the zoning ordinance is rarely enforced, some Salt Lake City leaders — including the mayor — want to bring the letter of law in line with current landscaping trends.

"I think the zoning ordinance is ridiculous,'' Mr. Anderson said. "It clearly needs to be changed."
For the full story, see:
MELISSA SANFORD. "Salt Lake City Moving Toward Less Thirsty Lawns." The New York Times (Fri., August 25, 2006): A12.