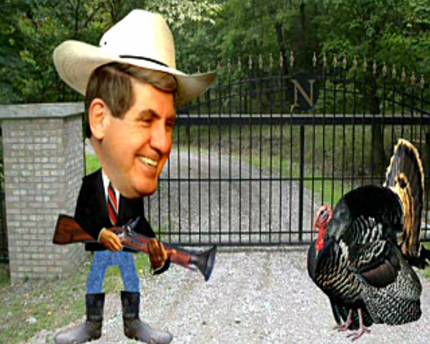 Source of image: screen capture from the campaign ad cited below.
Early in the 2006 senate campaign, the supporters of Democrat Ben Nelson made fun of Republican candidate Pete Ricketts for challenging the property assessment on his house. (They ran newspaper ads with ridiculing poetry, written in the manner of Dr. Seuss, and wore hats associated with the cat in Seuss's famous Cat in the Hat book.)
Well, they say what goes around, comes around. Nelson was himself getting a significant tax break on vacation land he owned, based on its being classified as being used primarily for agricultural purposes ("green-belt" status). The only agricultural use that could be found was that each year, a few turkeys were released on the land.
Now the Rickett's campaign has released a funny video ad satirizing "Farmer Nelson."
To download, or watch, the ad, go to: http://www.petericketts.com/comm_092506.asp