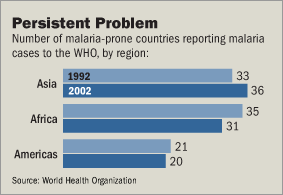 Source of graphic: online version of the WSJ article cited below.
The World Health Organization, in a sign that widely used methods of fighting malaria have failed to bring the catastrophic disease under control, plans to announce today that it will encourage the use of DDT, even though the pesticide is banned or tightly restricted in much of the world.

The new guidelines from the United Nations public-health agency support the spraying of small amounts of DDT, or dichloro-diphenyl-trichloroethane, on walls and other surfaces inside homes in areas at highest risk of malaria. The mosquito-borne disease infects as many as 500 million people a year and kills about a million. Most victims are in sub-Saharan Africa and under the age of 5.
For the full story, see:
BETSY MCKAY. "WHO Calls for Spraying Controversial DDT To Fight Malaria." Wall Street Journal (Fri., September 15, 2006): B1.