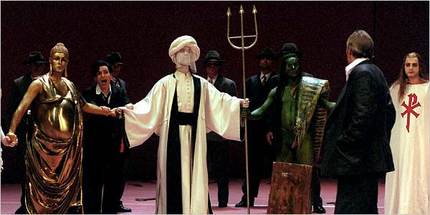 "A scene added to "Idomeneo," shown in a 2003 rehearsal, includes Muhammad and other religious figures." Source of photo and caption: online version of the NYT article cited below.
(p. A1) BERLIN, Sept. 26 — A leading German opera house has canceled performances of a Mozart opera because of security fears stirred by a scene that depicts the severed head of the Prophet Muhammad, prompting a storm of protest here about what many see as the surrender of artistic freedom.

The Deutsche Oper Berlin said Tuesday that it had pulled "Idomeneo" from its fall schedule after the police warned of an "incalculable risk" to the performers and the audience.

. . .

Political and cultural figures throughout Germany condemned the cancellation. Some said it recalled the decision of European newspapers not to reprint satirical cartoons about Muhammad, after their publication in Denmark generated a furor among Muslims.

Wolfgang Börnsen, a culture spokesman for Chancellor Angela Merkel's conservative bloc in Parliament, accused the opera house of "falling on its knees before the terrorists."
For the full story, see:
JUDY DEMPSEY and MARK LANDLER. "Opera Canceled Over a Depiction of Muhammad." The New York Times (Weds., September 27, 2006): A1 & A12.
(Note: ellipsis added.)