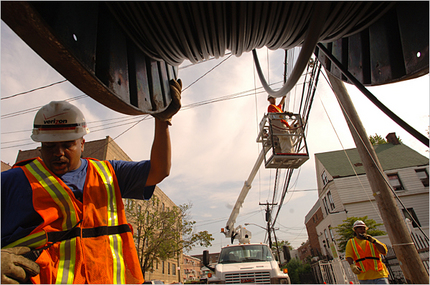 Verizon employees in New York installing fiber optic cable. Source of photo: online version of the NYT article cited below.
(p. C1) Building a whole new state-of-the-art network is a laborious and expensive process that Verizon says it must undertake to fend off rivals like Comcast and Vonage, which are moving fast into the phone business. As Verizon replaces more of its old copper network with more durable fiber lines, the company also expects to save billions of dollars in maintenance costs.

Verizon will spend about $20 billion by the end of the decade to reach 16 million homes from Florida to California. But it is in New York City where Verizon has the most at stake, because New Yorkers are some of the nation's biggest buyers of video, Internet and phone services. The company plans to spend about $3 billion to reach the city's 3.1 million homes and apartments.

With such a high concentration of potential customers, competition is fierce — and Verizon has been losing ground. Time Warner Cable, Cablevision and others are stealing about 1,000 Verizon phone customers a day, and their discounted services are making it hard for Verizon to win them back — another reason to get the fiber network up quickly.

"The guys understand the importance of this fiber project," said Robert Fighera, a lineman and chief union steward in the Bronx, nodding to the workmen nearby. "We're also stockholders, and we know we have to install this or we'll fall by the wayside of all these other companies."
For the full story, see:
KEN BELSON. "Verizon Is Rewiring New York, Block by Block, in a Race for Survival." The New York Times (Mon., August 14, 2006): C1 & C6.