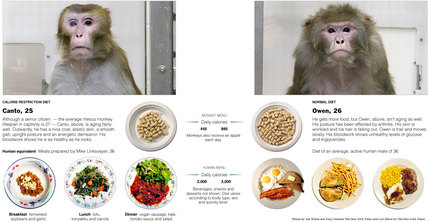 Source of graphic: online version of the NYT article cited below.
(p. D1) Recent tests show that the animals on restricted diets, including Canto and Eeyore, two other rhesus monkeys at the primate research center, are in indis-(p. D4)putably better health as they near old age than Matthias and other normally fed lab mates like Owen and Johann. The average lifespan for laboratory monkeys is 27.

The findings cast doubt on long-held scientific and cultural beliefs regarding the inevitability of the body's decline. They also suggest that other interventions, which include new drugs, may retard aging even if the diet itself should prove ineffective in humans. One leading candidate, a newly synthesized form of resveratrol — an antioxidant present in large amounts in red wine — is already being tested in patients. It may eventually be the first of a new class of anti-aging drugs. Extrapolating from recent animal findings, Dr. Richard A. Miller, a pathologist at the University of Michigan, estimated that a pill mimicking the effects of calorie restriction might increase human life span to about 112 healthy years, with the occasional senior living until 140, though some experts view that projection as overly optimistic.

According to a report by the Rand Corporation, such a drug would be among the most cost-effective breakthroughs possible in medicine, providing Americans more healthy years at less expense (an estimated $8,800 a year) than new cancer vaccines or stroke treatments.

"The effects are global, so calorie restriction has the potential to help us identify anti-aging mechanisms throughout the body," said Richard Weindruch, a gerontologist at the University of Wisconsin who directs research on the monkeys.

. . .

While an anti-aging pill may be the next big blockbuster, some ethicists believe that the all-out determination to extend life span is veined with arrogance. As appointments with death are postponed, says Dr. Leon R. Kass, former chairman of the President's Council on Bioethics, human lives may become less engaging, less meaningful, even less beautiful.

"Mortality makes life matter," Dr. Kass recently wrote. "Immortality is a kind of oblivion — like death itself."

That man's time on this planet is limited, and rightfully so, is a cultural belief deeply held by many. But whether an increasing life span affords greater opportunity to find meaning or distracts from the pursuit, the prospect has become too great a temptation to ignore — least of all, for scientists.

"It's a just big waste of talent and wisdom to have people die in their 60s and 70s," said Dr. Sinclair of Harvard.
For the full story, see:
MICHAEL MASON. "One for the Ages: A Prescription That May Extend Life." The New York Times (Tues., October 31, 2006): D1 & D4.
(Note: ellipsis added.)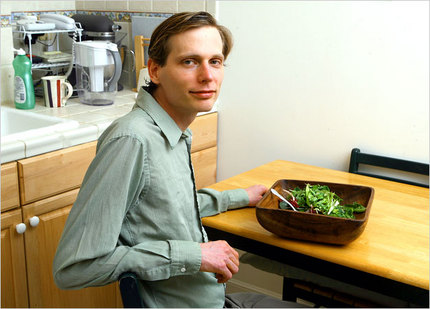 Mike Linksvayer is eating a calorie restricted diet. Source of photo: online version of the NYT article cited above.