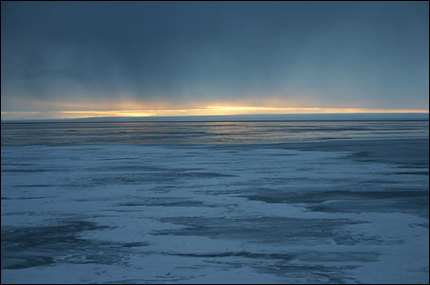 "The Canadian Coast Guard icebreaker Amundsen met a plate of "new ice" on the Northwest Passage, but it was easily traversed." Source of caption, and photo: online version of the Washington Post article quoted and cited below.
ICEBREAKER CHANNEL, Northwest Passage — The Amundsen's engines growl low, as if in warning. The ship steals ahead; its powerful spotlights stab at fog thick with the lore of crushed ships and frozen voyagers. Ice floes gleam from the void like the eyes of animals in the night.

The Canadian Coast Guard icebreaker Amundsen weaves in graceful slow motion through the ice pack, advancing through the legendary Northwest Passage well after the Arctic should be iced over and shuttered to ships for the winter.

The fearsome ice is weakened and failing, sapped by climate change. Ultimately, this night's ghostly procession through Icebreaker Channel will be the worst the ship faces on its late-season voyage. Much of the trip, crossing North America from west to east through the Northwest Passage, will be in open water, with no ice in sight.

The Amundsen is here to challenge the ice that has long guarded the legendary Northwest Passage across the roof of the Earth, and to plumb the scientific mysteries of an Arctic thawing from global warming.

A relentless climb of temperature — 5 degrees in 30 years — is shrinking the Arctic ice and reawakening dreams of a 4,000-mile shortcut just shy of the North Pole, passing beside the Arctic's beckoning oil and mineral riches.

"Shipping companies are going to think about this, and if they think it's worth it, they are going to try it," says the captain of the Amundsen, Cmdr. Alain Gariepy, 43. "The question is not if, but when."
For full story, see:
Doug Struck. "Melting Arctic Makes Way for Man; Researchers Aboard Icebreaker Say Shipping Could Add to Risks for Ecosystem." Washington Post (Sunday, November 5, 2006): A01.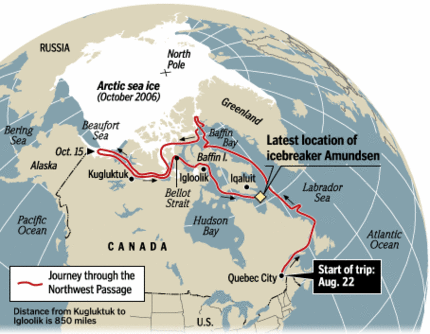 Source of map: online version of the Washington Post article quoted and cited above.