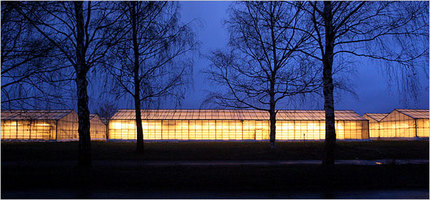 Privatized Moscow greenhouses provide greens to grocery stores during the winter. Source of the photo: online version of the NYT article cited below.
Much of the country's agricultural infrastructure is in disrepair, and across many rural regions farm production and labor are in disarray. The government has made reviving the agricultural sector one of its so-called national projects, a target for investment and recovery.
But the sights in Agrikombinat Moskovsky show that such problems are not universal. The business, now privatized, claims to have registered more than $75 million in sales in 2006. Its managers point to the crowded produce shelves in Moscow's supermarkets and dare an unlikely boast.

"People remember when it was hard to find greens in Moscow, but today you can find them in every single decent supermarket," said Yevgeny G. Sidorov, the general director. "Moscow has the freshest green plants in the world."

That last claim, unverifiable, is nonetheless no longer absurd.

Moscow's food stores, formerly famed for bare shelves and long lines, are now kept stocked with fresh champignons and greens — even in the freeze a year ago that almost paralyzed much of the capital, with temperatures from 6 below zero to 22 below for more than a week.
For the full story, see:
C. J. CHIVERS. "MOSCOW JOURNAL; A Soviet Agricultural Success: Vast Greenhouse Complex." The New York Times (Weds., January 31, 2007): A4.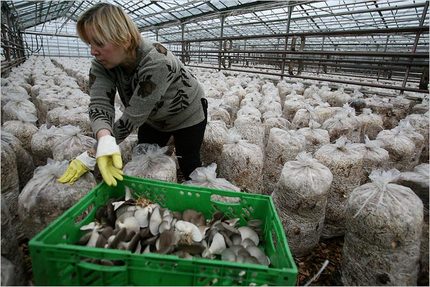 Oyster mushrooms being picked in one of the greenhouses in January. Source of the photo: online version of the NYT article cited above.