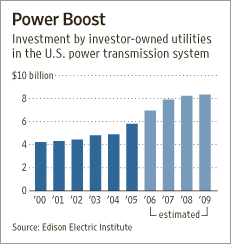 Source of graph: online version of the WSJ article cited below.
U.S. utilities are significantly increasing their spending on new electricity-transmission lines, a trend that could ease choke points in the flow of power, enhance reliability and increase the potential for renewable energy.
The spending should put a dent in the chronic problem of underinvestment, a factor in the big 2003 blackout that left 50 million people in the eastern U.S. and Canada in the dark.

. . .

American Electric Power created buzz in November when it announced it will partner with Berkshire Hathaway Inc.'s utility unit, MidAmerican Energy Holdings Co., to build more transmission lines in Texas. AEP is budgeting about $1 billion for Texas projects, some designed to serve wind power developers.

AEP has identified $9 billion in important transmission projects in its 11-state region, including $3 billion for a 550-mile line that would bring cheaper power to New Jersey from West Virginia. AEP Chairman Michael Morris said transmission projects "will begin to pay benefits to shareholders as early as 2007."

. . .

Some projects pay for themselves, in effect, by eliminating grid choke points that limit power flows. In Connecticut, a new high-voltage line to Norwalk from Danbury, cost $340 million but will produce immediate savings for consumers by allowing less costly power to flow into the area. That eliminates so-called congestion costs, or the difference between what it would cost to supply the need in the most economical way versus what it actually costs because transmission capacity is limited.
For the full story, see:
REBECCA SMITH. "Money on the Lines Utilities Invest in Transmission." The Wall Street Journal (Tues., February 6, 2007): A10.