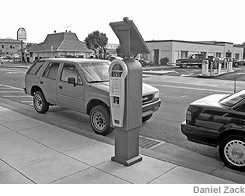 Two views of the new parking meters in Redwood, California. Source of photos: online version of the WSJ article cited below.
Economists have long made the case that the solution to the parking crunch many cities face lies not in more free or cheap parking but in higher prices. The idea is that higher prices result in a greater churn — and get more people on buses and subways — which leads to more open spaces. But this notion has often run up against city planners and retailers arguing that cheap and plentiful parking results in more commerce and, thus, higher sales taxes and a vibrant economy.

Now, in places like Redwood City, some officials are finally listening. One reason is that after decades of losing people to the suburbs, many city centers are swelling again. Many of these new residents are bringing cars with them, creating the kind of traffic that makes them yearn for the suburbs again.

One of the most influential of the parking gurus is Donald Shoup, a professor at the University of California, Los Angeles who commutes on a bicycle. Since the publication in 2005 of Mr. Shoup's "The High Cost of Free Parking," he has become something of a celebrity at academic gatherings and parking-industry meetings. Lines form at his book signings. "He's a parking rock star," says Paul White, of Transportation Alternatives, a New York group that advocates for pedestrians and bicycles.

. . .

Dan Zack, downtown development coordinator for Redwood City, has bought in. A few years ago, his boss presented him with a problem. "He said, 'We're adding a million visitors every year, but only 600 new parking spots — make it work,' " Mr. Zack recalls. After visiting neighboring cities and reading books like "The Dimensions of Parking," Mr. Zack was handed an article by Mr. Shoup.

The city recently raised rates to 75 cents for some prime downtown spots that had been free, and ditched its one-hour time limits, so cars can prepay for as long as they'd like. The move has helped steer more cars to underutilized parking garages away from the main drag.

. . .

San Francisco, perhaps more than any other city, shows how radically some cities are rethinking their parking. The city is one of the toughest places to find a meter spot in all of America, and there have been a spate of attacks by angry drivers, against parking enforcement officers. One block near the popular Fisherman's Wharf has average stays of four hours — even though there's a two-hour time limit — and some spots are filled for days at a time.

Recently, the city hired a company to lay hundreds of 4-inch-by-4-inch sensors along the streets in some areas. The sensors, which resemble reflectors, have recorded some 250,000 "parking events" across 200 parking spots. City planners can now tell you which spots are occupied the longest and how traffic flow affects parking supplies.

If the sensors get a wider rollout, the city has floated a number of ideas. When there's a Giants baseball game at AT&T Park, the city could temporarily charge about the same as private lots near the stadium. The ground sensors are also connected to the Internet wirelessly, which creates the possibility that parking enforcement officers equipped with PDAs could get real-time information on parking violations beamed to them. It also means consumers could get information on which parking spots are open.
For the full story, see:
CONOR DOUGHERTY. "The Parking Fix; Free-market economists are overhauling a frustration of American life — and erasing what may be one of the last great urban bargains." The Wall Street Journal (Sat., February 3, 2007): P1 & P5.
(Note: ellipses added.)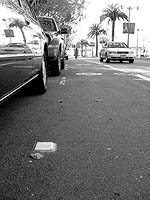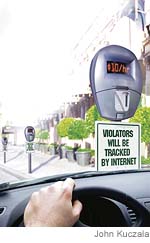 Sensors such as the one embedded in the San Francisco street on the left, could eventually be used to help track parking violators, as imagined in the fictional picture on the right. Source of photos: online version of the WSJ article cited above.