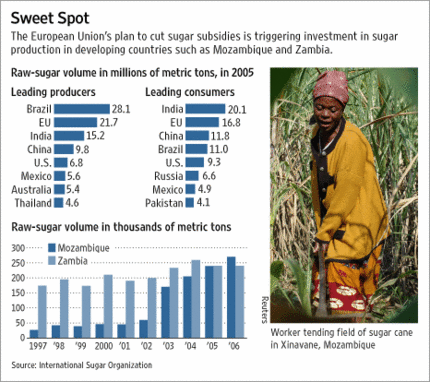 Source of graphic: online version of the WSJ article cited below.
For once, Europe bests the United States in consistently practicing free trade:
BRUSSELS — The developing world has been adamant that rich nations abandon farm subsidies in order to get a global trade deal both sides say they want. A flood of investment pouring into Southern Africa's sugar industry demonstrates why the poor countries won't back down on this demand.

The hundreds of millions of dollars being spent to ramp up African sugar production is a direct response to European Union plans to slash import duties and subsidies that for years have locked out farmers in developing countries.

The expansion shows how the EU's gradual opening of its farm sector can boost production in some developing countries, offer cheaper prices to European consumers and force inefficient EU producers to close.
For the full story, see:
JOHN W. MILLER "African Sugar Production Ramps Up EU Plan to Cut Tariffs Shows How Developing Nations Can Benefit." The Wall Street Journal (Sat., February 17, 2007): A4.