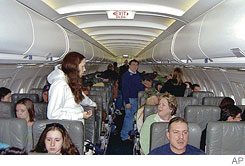 JetBlue passengers during the 8 and a half hours that they were stranded on the tarmac without being allowed to leave the plane on Weds., February 14th. Source of photo: online version of the WSJ article cited below.
To avoid stranding passengers for hours on the tarmac is not a 'passnger bill of rights,' but more rational (or fewer) FAA government work rules for airline crews:
(p. D3) Duty-time limits . . . can discourage pilots from taking planes back to gates. Federal rules give pilots a total work day of 16 hours, with only eight hours actually at the controls of an airplane. A pilot can't start a new flight with a scheduled time that would push over eight hours in the cockpit, but the pilot can continue any delayed flight up to the 16-hour limit.

If a flight goes back to the gate, it technically ends. So if the pilot is close to the eight-hour limit, he or she can't start a new flight to get the plane to its destination. But if the flight sits on the ramp without going back to the gate, the pilot gets the 16-hour window.
For the full story, see:
SCOTT MCCARTNEY. "THE MIDDLE SEAT; Stuck on a Plane: Why Nightmare Delays Happen; FAA Rules, Company Policies Prod Airlines to Wait It Out; Calling in the Red Cross." The Wall Street Journal (Tues., February 20, 2007): D1 & D3.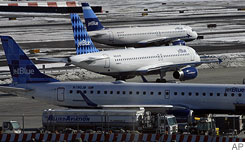 JetBlue planes on Mon., February 19th at JFK airport. Source of photo: online version of the WSJ article cited above.