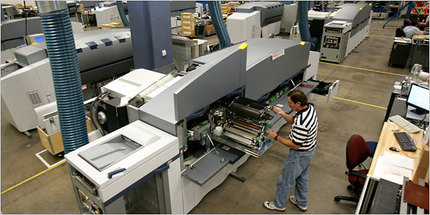 A Kodak digital production printer. Source of photo: online version of the NYT article cited below.
Digital photography replacing film technology is an example of Schumpeter's process of creative destruction, and maybe also of the gradual growth of a disruptive technology. Leading incumbent firms frequently have trouble prospering, or even surviving, during such a change. Both the Wall Street Journal and the New York Times had articles on the latest news from Kodak. Here is an excerpt from the New York Times version:
On Tuesday, as the Eastman Kodak Company unveiled its long-anticipated consumer inkjet printer in New York, the mood at the company's Rochester headquarters could not have been more positive.
"People know we are back on the offensive," said Frank Sklarsky, Kodak's chief financial officer. "And that's making them a lot more charged up about coming to work."

But yesterday, Kodak gave them reason again to feel depressed. The company said it would cut 3,000 more jobs this year, on top of the 25,000 to 27,000 it had already said would be gone by the end of 2007. At that rate, Kodak will end the year with about 30,000 employees, half the number of just three years ago and a fraction of the 145,000 people it employed in 1988, when its brand was synonymous with photography.

Kodak executives insist that the new cuts do not indicate any snags in the continuing struggle to transform itself from a film-based company into a major competitor in digital imagery. And analysts, too, say the cuts are inevitable, and probably healthy.
For the full NYT story, see:
CLAUDIA H. DEUTSCH. "Shrinking Pains at Kodak." The New York Times (Fri., February 9, 2007): C1 & C4.
For the related WSJ story, see:
WILLIAM M. BULKELEY and ANGELA PRUITT. "Kodak Sees More Job Cuts, Higher Restructuring Costs." The Wall Street Journal (Fri., February 9, 2007): B4.
Source of the first and third graphic: the WSJ article cited above. Source of the second graphic: the NYT article cited above.