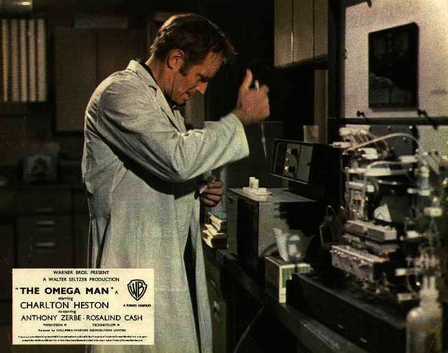 Charlton Heston as Robert Neville, the last scientist on earth. Source of photo: http://datacore.sciflicks.com/the_omega_man/images/the_omega_man_large_09.jpg
In the 1970s, one of my favorite films was "The Omega Man" (1971) starring Charlton Heston as the doctor/scientist who was the last healthy man on earth. A plague had killed most of humanity, leaving a few in a demented "tertiary" condition. Heston as "Robert Neville" had developed a vaccine, but only had been able to test it on himself, as the world collapsed.
Those in the "tertiary" state had been organized by a former broadcast commentator named "Matthias" into the "family" whose goal it was to burn books, and destroy all remnants of science and technology.
At one point near the end, the family captures Neville, and as the family destroys Neville's paintings, and laboratory, Matthias rants that Neville is the last scientist, the last remnant of the old world, and that all will be well when they have destroyed him. Then comes one of my favorite exchanges.
Matthias: Now we must build.

Robert Neville: Build coffins, that's all you'll need.
When I saw the movie again today (3/16/07) for the first time in decades, I was worried that I had built it up in my memory, and that the reality would be way disappointing.
I was relieved to see that the movie, though not perfect, was still plenty good enough.