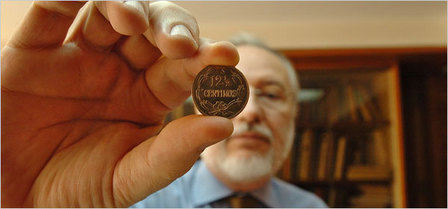 Hugo Chávez expects to end inflation by bringing back the "locha" 12 ½-cent coin (held in this picture by coin dealer Antonio Allesandrini). Source of photo: online version of the NYT article quoted and cited below.
(p. 8) CARACAS, Venezuela, March 17 — Of all the startling measures announced by President Hugo Chávez this year, from the nationalization of major utilities to threats of imprisonment for violators of price controls, none have baffled economists quite like his venture into monetary reform.

First, Mr. Chávez said the authorities would remove three zeroes from the denomination of the currency, the bolívar. Then he said the new bolívar, worth 1,000 old bolívars, would be renamed the "bolívar fuerte," or strong bolívar.

Finally, at the behest of Mr. Chávez, the central bank said this week that it would reintroduce a 12.5-cent coin, a symbol of Venezuela's prosperity in the 1960s and 1970s before freewheeling oil booms ended in abrupt devaluations, after three decades out of circulation.

Mr. Chávez champions these ideas, which will take effect in January, as ways to combat inflation, which in recent weeks crept up to 20 percent, the highest in Latin America. . . .

. . .

"We're witnessing policy in the form of window dressing, all carried out at the whim of one man whose strong point is not economics," said Hugo Faría, an economist at the Institute of Higher Management Studies, a private business school here. "Anyone who sees a 12 ½-cent coin as a remedy for this country's problems isn't thinking too clearly."
For the full story, see:
SIMON ROMERO. "Venezuelan Lender Sets Siights on Currency Valuation." The New York Times, Section 1 (Sun., March 18, 2007): 8.
(Note: ellipses added.)
(Note: the online version of the title is the slightly different, "Venezuela to Give Currency New Name and Numbers.")