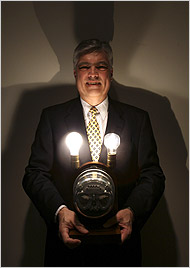 Randall Moorehead's Phillips Electronics wants the government to force us to switch from the incandescent bulb on the left, to bulbs like the Phillips bulb on the right. Source of photo: online version of the NYT article cited below.
WASHINGTON, March 13 — A coalition of industrialists, environmentalists and energy specialists is banding together to try to eliminate the incandescent light bulb in about 10 years.

In an agreement to be announced Wednesday, the coalition members, including Philips Lighting, the largest manufacturer; the Natural Resources Defense Council; and two efficiency organizations, are pledging to press for efficiency standards at the local, state and federal levels. . . .

. . .

The Australian government said on Feb. 20 that it would seek to ban incandescent bulbs and replace them with compact fluorescents. Shortly thereafter, the environment minister of Ontario, Laurel Broten, said her province was considering a similar step, and a California assemblyman, Lloyd Levine, introduced a bill to do the same.

"Incandescent light bulbs were first developed almost 125 years ago," Mr. Levine said, "and since that time they have undergone no major modifications."

Kathleen Rogers, president of the Earth Day Network, one of the groups in the alliance seeking to end the use of incandescent bulbs, predicted, "I think you're going to see these disparate efforts adding up to this great tidal wave." The problem, she said, was that "the incandescent spends most of its life making heat, not light."

But General Electric, which traces its origins to Edison, said that could change.

"It's shortsighted to freeze technology in favor of today's high-efficiency compact fluorescent lamps," the company said in a statement. "We'd rather keep innovating and offering traditional, commercial and industrial consumers more energy-efficient choices — not fewer choices."
For the full story, see:
MATTHEW L. WALD. "A U.S. Alliance to Update the Light Bulb." The New York Times (Weds., March 14, 2007): C3.
(Note: ellipses addd.)