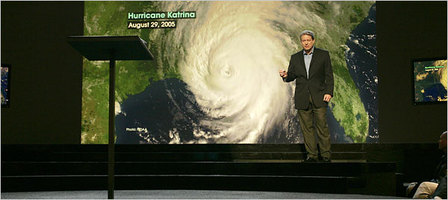 Al Gore lectures. Source of photo: online version of the NYT article quoted and cited below.
(p. D1) Hollywood has a thing for Al Gore and his three-alarm film on global warming, "An Inconvenient Truth," which won an Academy Award for best documentary. So do many environmentalists, who praise him as a visionary, and many scientists, who laud him for raising public awareness of climate change.

But part of his scientific audience is uneasy. In talks, articles and blog entries that have appeared since his film and accompanying book came out last year, these scientists argue that some of Mr. Gore's central points are exaggerated and erroneous. They are alarmed, some say, at what they call his alarmism.

"I don't want to pick on Al Gore," Don J. Easterbrook, an emeritus professor of geology at Western Washington University, told hundreds of experts at the annual meeting of the Geological Society of America. "But there are a lot of inaccuracies in the statements we are seeing, and we have to temper that with real data."

. . .

(p. D6) Geologists have documented age upon age of climate swings, and some charge Mr. Gore with ignoring such rhythms.

"Nowhere does Mr. Gore tell his audience that all of the phenomena that he describes fall within the natural range of environmental change on our planet," Robert M. Carter, a marine geologist at James Cook University in Australia, said in a September blog. "Nor does he present any evidence that climate during the 20th century departed discernibly from its historical pattern of constant change."

In October, Dr. Easterbrook made similar points at the geological society meeting in Philadelphia. He hotly disputed Mr. Gore's claim that "our civilization has never experienced any environmental shift remotely similar to this" threatened change.

Nonsense, Dr. Easterbrook told the crowded session. He flashed a slide that showed temperature trends for the past 15,000 years. It highlighted 10 large swings, including the medieval warm period. These shifts, he said, were up to "20 times greater than the warming in the past century."

Getting personal, he mocked Mr. Gore's assertion that scientists agreed on global warming except those industry had corrupted. "I've never been paid a nickel by an oil company," Dr. Easterbrook told the group. "And I'm not a Republican."
For the full story, see:
WILLIAM J. BROAD. "From a Rapt Audience, a Call to Cool the Hype." The New York Times (Tues., March 13, 2007): D1 & D6.
(Note: ellipsis added.)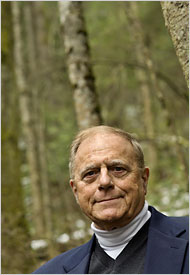 Geologist Don Easterbrook. Source of photo: online version of the NYT article quoted and cited above.