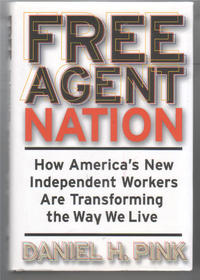 Source of book image: http://g-ec2.images-amazon.com/images/G/01/ciu/10/ae/8ca3d250fca0f5b077de4010.L.jpg
Daniel Pink's 2001 Free Agent Nation has been on my to-read list since it first came out. It finally made it to the top—at least in the author-abridged two-cassette incarnation.
I always found the basic idea appealing: the appeal of the freedom of working for yourself—Harry Browne's How I Found Freedom in an Unfree World, but for real.
But I also was a little anxious; fearful that the book would place too much emphasis on seeming flash-in-the-pan dot.com labor market phenomena and rhetoric.
To my relief, I can report that little in the book depends on the dot.com over-exuberance. The internet appears, as an infrastructure enabler, but the free agents are mainly doing more standard stuff, but doing it from a home office, and doing it project-by-project.
Pink is not an academic, which has pros and cons. One of the pros is that his prose is pleasant. Another is that he has an ear for a good story and a telling example. Perhaps a con is that he often hasn't had the time, or the interest, (or maybe the data just don't exist) to often follow-up with how widespread his examples are.
Still there's some good stuff here. Like suggesting that free agency is what you would expect more of us to pursue, as we work our way up Abraham Maslow's hierarchy of human needs. (In college I was enthused enough about Maslow that I was thinking of minoring in psychology, until they told me how many hours I would have to run rats through mazes before I'd be allowed to open a Maslow book.)
And there's plausible discussion about how in some ways free agency is more secure than a regular job (multiple clients means diversification). And there is more freedom to control your own time, and be your authentic self.
There's also some good discussion of how the government makes free agency harder through health care and taxation policies.
All-in-all, this book helps make the case that labor can thrive in a Schumpeterian world of creative destruction.
Reference to the book:
Pink, Daniel H. Free Agent Nation: How America's New Independent Workers Are Transforming the Way We Live. New York: Warner Business Books, 2001.