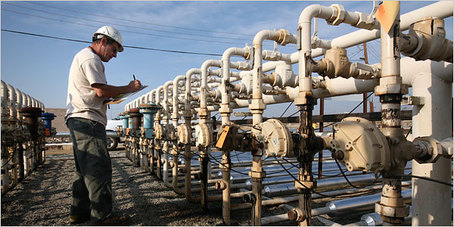 Valves being checked by Brian Roe, at the Kern River oil field. Source of the photo: online version of the NYT article cited below.
(p. A1) BAKERSFIELD, Calif. — The Kern River oil field, discovered in 1899, was revived when Chevron engineers here started injecting high-pressured steam to pump out more oil. The field, whose production had slumped to 10,000 barrels a day in the 1960s, now has a daily output of 85,000 barrels.

In Indonesia, Chevron has applied the same technology to the giant Duri oil field, discovered in 1941, boosting production there to more than 200,000 barrels a day, up from 65,000 barrels in the mid-1980s.

And in Texas, Exxon Mobil expects to double the amount of oil it extracts from its Means field, which dates back to the 1930s. Exxon, like Chevron, will use three-dimensional imaging of the underground field and the injection of a gas — in this case, carbon dioxide — to flush out the oil.

Within the last decade, technology advances have made it possible to unlock more oil from old fields, and, at the same time, higher oil prices have made it economical for companies to go after reserves that are harder to reach. With plenty of oil still left in familiar locations, forecasts that the world's reserves are drying out have given way to predictions that more oil can be found than ever before.

In a wide-ranging study published in 2000, the U.S. Geological Survey estimated that ultimately recoverable resources of conventional oil totaled about 3.3 trillion barrels, of which a third has already been produced. More recently, Cambridge Energy Research Associates, an energy consultant, estimated that the total base of recoverable oil was 4.8 trillion barrels. That higher estimate — which Cambridge Energy says is likely to grow — reflects how new technology can tap into more resources.

"It's the fifth time to my count that (p. A11) we've gone through a period when it seemed the end of oil was near and people were talking about the exhaustion of resources," said Daniel Yergin, the chairman of Cambridge Energy and author of a Pulitzer Prize-winning history of oil, who cited similar concerns in the 1880s, after both world wars and in the 1970s. "Back then we were going to fly off the oil mountain. Instead we had a boom and oil went to $10 instead of $100."

. . .

"I am very, very seriously worried about the future we are facing," said Kjell Aleklett, the president of the Association for the Study of Peak Oil and Gas. "It is clear that oil is in limited supplies."

Many oil executives say that these so-called peak-oil theorists fail to take into account the way that sophisticated technology, combined with higher prices that make searches for new oil more affordable, are opening up opportunities to develop supplies. As the industry improves its ability to draw new life from old wells and expands its forays into ever-deeper corners of the globe, it is providing a strong rebuttal in the long-running debate over when the world might run out of oil.

Typically, oil companies can only produce one barrel for every three they find. Two usually are left behind, either because they are too hard to pump out or because it would be too expensive to do so. Going after these neglected resources, energy experts say, represents a tremendous opportunity.

"Ironically, most of the oil we will discover is from oil we've already found," said Lawrence Goldstein, an energy analyst at the Energy Policy Research Foundation, an industry-funded group. "What has been missing is the technology and the threshold price that will lead to a revolution in lifting that oil."
For the full story, see:
JAD MOUAWAD. "Oil Innovations Pump New Life Into Old Wells." The New York Times (Mon., March 5, 2007): A1 & A11.
(Note: ellipsis added.)
Also view the excellent little video "New Life for Old Oil Fields" that the NYT put together to accompany the article.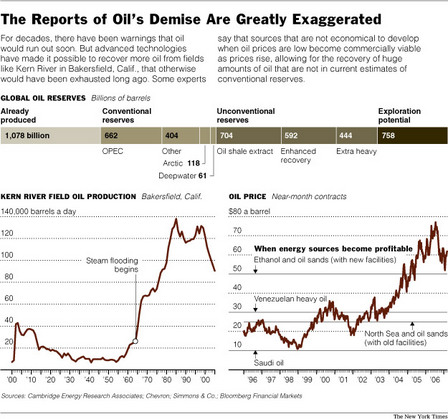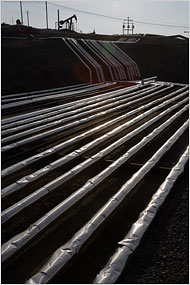 Kern River pipelines in front, and pump in back. Source of graphic and photo: online version of the NYT article cited above.