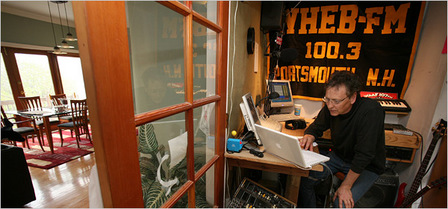 A "local" Phoenix talk show host, Joe Crummey, broadcasts from his home in California. Source of photo: online version of the NYT article cited below.
The Internet is sometimes viewed as labor's enemy because it reduces the cost of outsourcing. But it goes both ways: labor can offer its services to a wider world because of the Internet.
LOS ANGELES, March 27 — When people hear the radio host Joe Crummey on Phoenix's popular KFYI murmur sarcastically, "We don't have enough human rights activists in this town," they know he means Phoenix.

Ditto for when he offers to assess the "east side west side traffic right now."

As it turns out, Mr. Crummey, whose favorite talk show topics include immigration, patriotism and Arizona politics, is indeed reporting for duty in the valley. Just not in the Phoenix Valley.

Rather, it is here, in the San Fernando Valley, where he works via the Internet from his home on the top of a hill in the Studio City section of Los Angeles. Listeners in Phoenix are none the wiser.

Armed with four computers, a digital recorder, a constant stream of Fox News and a professional microphone, Mr. Crummey holds court for three hours each weekday during Phoenix's drive-home time slot — from about 400 miles away in a neighboring state.
For the full story, see:
JENNIFER STEINHAUER. "Live, From Station KFYI in …Well, That's Complicated." The New York Times (Weds., March 28, 2007): A11.