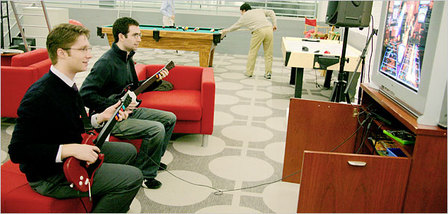 A break lounge at Google's Manhattan offices. Source of photo: online version of the NYT article cited below.
You could be forgiven for not knowing that a satellite Google campus is growing in downtown Manhattan. There is no Google sign on the building, and it's hard to catch a glimpse of a Googler, as employees call themselves, on the street because the company gives them every reason to stay within its candy-colored walls.

From lava lamps to abacuses to cork coffee tables, the offices may as well be a Montessori school conceived to cater to the needs of future science-project winners.

. . .

"These are power geniuses," said Jane Risen, a statuesque brunette who works in training for the sales staff and is considered among the best dressed on campus — she was wearing a brown blazer from the Gap. "If they don't have the same social skill or style sense, they're extremely interesting people or else they don't get hired."

. . .

The strategy of keeping employees happy and committed to spending endless hours on campus seems to be working. Richard Burdon, 37, an engineer who joined Google two years ago, has been staying past midnight to prepare for the introduction of a project. (Google's Manhattan engineers have been responsible for developing Google Maps and are working on some 100 other projects.)

"Google is about as interesting as starting your own startup because you can really follow your own ideas," said Mr. Burdon, who previously worked for Goldman Sachs, Sony and I.B.M. The only time he could remember leaving the office during the workday was to buy a friend a birthday present.
For the full story, see:
DEBORAH SCHOENEMAN. "Can Google Come Out to Play?" The New York Times (December 31, 2006).
(Note: ellipses added.)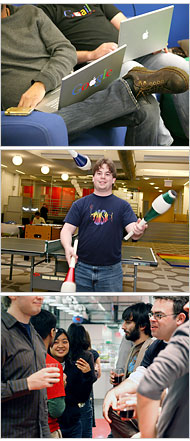 Work and non-work at Google's Manhattan offices. Source of photos: online version of the NYT article cited above.