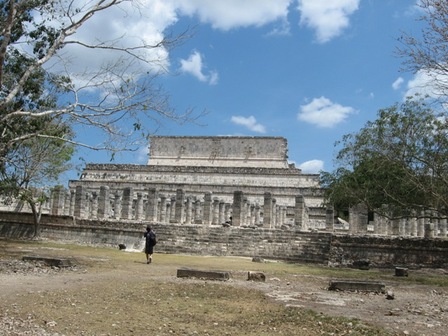 The guide told us that this area of pillars at Chichen Itza, in the Yucatan of Mexico, is thought to have been a market area. (Photo taken by me on April 8, 2007, at the excursion to Chichen Itza arranged for the Association of Private Enterprise Education.)
Usually we think of the Catholic Church's great damage to knowledge being its persecution of Galileo and attempted suppression of heliocentricism. But the suppression quickly failed and nothing permanent was lost.
A greater harm to knowledge may have been done when, in the name of the inquisition, countless Mayan manuscripts were burned by the Spanish conquistadors.
Evidence was destroyed that likely would have helped us understand how the Mayan society worked.
For example, we were told on our visit to Chichen Itza that one hypothesis has it that Chichen Itza lasted 300 years longer than all other Mayan city-states because it was the only city-state dominated by cosmopolitan merchant and entrepreneur culture–an hypothesis that I find highly congenial.
Unfortunately, much of the evidence that might have confirmed, elaborated, or refuted this hypothesis, was destroyed forever.