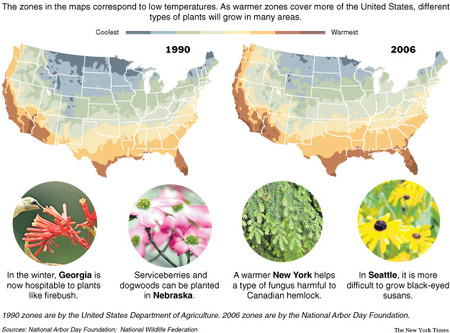 Source of graphic: online version of the NYT article quoted and cited below.
(p. A1) Forget the jokes about beachfront property. If global warming has any upside, it would seem to be for gardeners, who make up three-quarters of the population and spend $34 billion a year, according to the National Gardening Association. Many experts agree that climate change, which by some estimates has already nudged up large swaths of the country by one or more plant-hardiness zones, has meant a longer growing season and a more robust selection. There are palm trees in Knoxville and subtropical camellias in Pennsylvania.
For the full story, see:
SHAILA DEWANSHAILA DEWAN. "Feeling Warmth, Subtropical Plants Move North." The New York Times (Thurs., May 3, 2007): A1 & A20.