Source of graphs: online version of the NYT article quoted and cited below.
(p. A1) "If the national policy of the country is to push for dramatic increases in the biofuels industry, this is a disincentive for those making investment decisions on expanding capacity in oil products and refining," said John D. Hofmeister, the president of the Shell Oil Company. "Industrywide, this will have an impact."

The concerns were echoed in a recent report by Barclays Capital, which said the uncertainty about the ethanol growth "will do little to accelerate desperately needed investment in complex United States refining units."

"Indeed, it is likely to deter and further delay investment, if not rule out many refinery investments completely."

. . .

(p. A15) As a result of the push for biofuels, and encouraged by federal subsidies and grants, dozens of ethanol distilleries are being planned. These investments should double the annual production of ethanol from corn to 15 billion gallons by 2012 from about 6 billion gallons today.

But given farmland constraints and the need to use corn for food, that is as much ethanol as can possibly be produced from corn, according to the ethanol industry's own calculations. Ethanol producers recognize that it is not clear how an additional 20 billion gallons of ethanol — President Bush has called for 35 billion gallons of biofuels by 2017 — would be produced from cellulose or biomass.

"The current thinking is that based on today's technology, we suspect corn-based ethanol will generate at least 15 billion gallons," said Brian Jennings, the executive vice president of the American Coalition for Ethanol, an association of ethanol and corn producers. "Beyond that, it's uncertain. The marketplace will make that determination on where it will come from."

Yet some members of Congress would like to make the president's goal for biofuels a mandatory target — the equivalent of 2.3 million barrels a day that would, in effect, create an ethanol industry roughly the size of world-class oil producers like Kuwait or Nigeria.

The economics of cellulosic ethanol, made from nonfood crops and agricultural waste, are also unclear. Since cellulosic ethanol, still at an experimental stage, is twice as expensive as corn-based ethanol, there are currently no commercial-scale cellulosic plants.

Lawrence Goldstein, an energy analyst at the Energy Policy Research Foundation, an industry-financed group, has been warning for nearly a year that the government's twin goals of encouraging refiners to increase production and promoting increased supplies of biofuels work against each other.

"These two policies are not complementary," Mr. Goldstein said. "These policies are in conflict."

In addition, Mr. Goldstein said, an emphasis on ethanol might lead to increased volatility in fuel prices.

"If we get a bad corn crop, we will end up paying for it at the pump and on the food shelves," he said. "We are not buying security. We are increasing volatility."
For the full story, see:
JAD MOUAWAD. "Oil Industry Says Biofuel Push May Hurt at Pump." The New York Times (Thurs., May 24, 2007): A1 & A15.
(Note: ellipsis added.)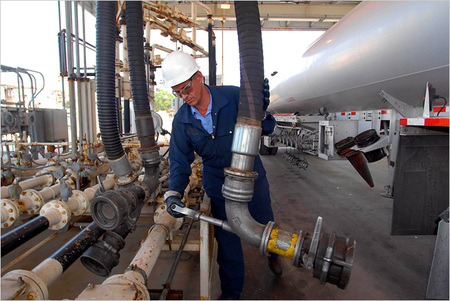 A trucker getting ready to fill his tanker at a Mississippi refinery. Source of photo: online version of the NYT article quoted and cited above.