Mr. Moore was back from Cuba, where he made a documentary on the superiority of Castro's health-care system. Mr. Thompson suggested Mr. Moore is just another lefty who loves dictators. Mr. Moore challenged Mr. Thompson to a health-care debate and accused him of smoking embargoed cigars. Within hours Mr. Thompson and his supposedly nonexistent staff had produced a spirited video response that flew through YouTube and the conservative blogosphere. Sitting at a desk and puffing on a fat cigar, Mr. Thompson announces to Mr. Moore he can't fit him into his schedule. Then: "The next time you're down in Cuba . . . you might ask them about another documentary maker. His name was Nicolás Guillén. He did something Castro didn't like, and they put him in a mental institution for several years, giving him devastating electroshock treatments. A mental institution, Michael. Might be something you ought to think about."

You couldn't quite tell if Mr. Thompson was telling Mr. Moore he ought to think more about Cuba, or might himself benefit from psychiatric treatment. It seemed almost . . . deliberately unclear.
PEGGY NOONAN. "DECLARATIONS; The Man Who Wasn't There." The Wall Street Journal (Sat., May 19, 2007): P14.
(Note: ellipsis in original.)
See Fred Thompson's response to Michael Moore on YouTube at:
http://www.youtube.com/watch?v=Ds_GhRxivOI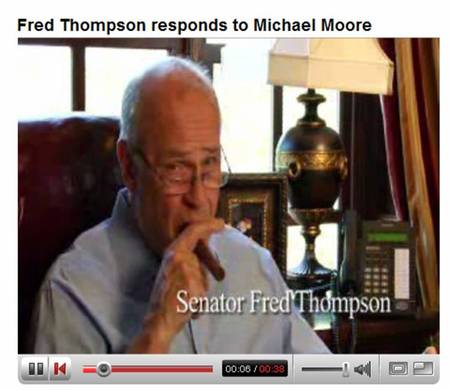 Source: screen capture from Fred Thompson's response to Michael Moore at http://www.youtube.com/watch?v=Ds_GhRxivOI