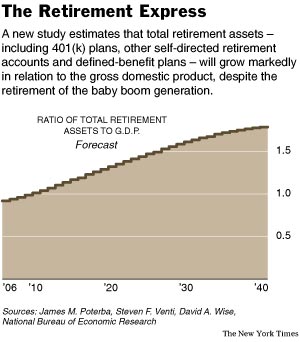 Source of graph: online version of the NYT article cited below.
WILL stocks suffer a multidecade bear market as the baby-boom generation sells its shares to support its retirement? Some have predicted such an outcome, but a new study — which projects huge growth in 401(k) assets in future decades — paints a far more sanguine picture.

The study, "New Estimates of the Future Path of 401(k) Assets," has been circulating since earlier this month as a working paper from the National Bureau of Economic Research. Its authors are James M. Poterba, chairman of the economics department at the Massachusetts Institute of Technology; Steven F. Venti, an economics professor at Dartmouth; and David A. Wise, a professor of political economy at Harvard. A version is at www.nber.org/papers/w13083.

Despite the baby boomers' liquidation of retirement assets in coming decades, the study estimates that the total size of 401(k) plans will nevertheless grow markedly. That forecast may come as a surprise to some people, the professors concede, because 401(k)'s now represent only a modest fraction of a typical retiree's total wealth. But the professors point out that 401(k) plans have existed only since the early 1980s; by the time that today's younger workers retire, they will have had many more years to contribute to their 401(k)'s than current retirees have had.
For the full commentary, see:
MARK HULBERT. "STRATEGIES; Baby Boomers Are Cashing In. So What?" The New York Times, Section 3 (Sun., May 27, 2007): 5.