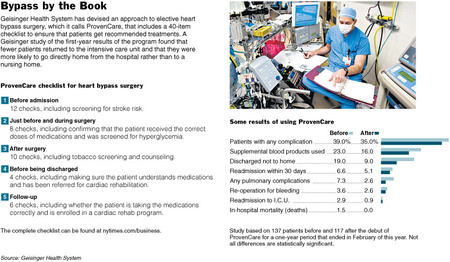 Source of graphic: online version of the NYT article quoted and cited above.
The experiment described in the article excerpted below sounds promising. Such experiments would be easier, and more common, if health care were not so highly regulated, and if the government did not create such large barriers to entry in the practice of medicine.
(p. A1) What if medical care came with a 90-day warranty?

That is what a hospital group in central Pennsylvania is trying to learn in an experiment that some experts say is a radically new way to encourage hospitals and doctors to provide high-quality care that can avoid costly mistakes.

The group, Geisinger Health System, has overhauled its approach to surgery. And taking a cue from the makers of television sets, washing machines and consumer products, Geisinger essentially guarantees its workmanship, charging a flat fee that includes 90 days of follow-up treatment.

Even if a patient suffers complications or has to come back to the hospital, Geisinger promises not to send the insurer another bill.

Geisinger is by no means the only hospital system currently rethinking ways to better deliver care that might also reduce costs. But Geisinger's effort is noteworthy as a distinct departure from the typical medical reimbursement system in this country, under which doctors and hospitals are paid mainly for delivering more care — not necessarily better care.

. . .

Under the typical system, missing an antibiotic or giving poor instructions when a patient is released from the hospital results in a perverse reward: the chance to bill the patient again if more treatment is necessary. As a result, doctors and hospi-(p. C4)tals have little incentive to ensure they consistently provide the treatments that medical research has shown to produce the best results.

Researchers estimate that roughly half of American patients never get the most basic recommended treatments — like an aspirin after a heart attack, for example, or antibiotics before hip surgery.

The wide variation in treatments can translate to big differences in death rates and surgical complications. In Pennsylvania alone, the mortality rate during a hospital stay for heart surgery varies from zero in the best-performing hospitals to nearly 10 percent at the worst performer, according to the Pennsylvania Health Care Cost Containment Council, a state agency.
For the full story, see:
REED ABELSON. "In Bid for Better Care, Surgery With a Warranty." The New York Times (Thurs., May 17, 2007): A1 & C4.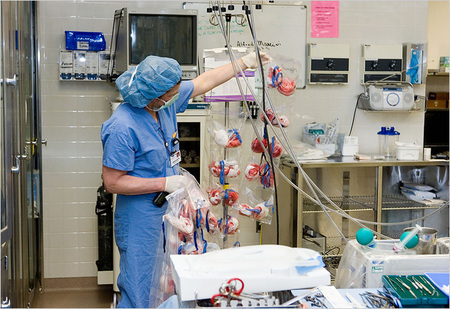 Providing a warranty provides the hospital to provide higher quality care, as evidenced, for example, in this nurse counting sponges to make sure that none have been left behind in the patient. Source of photo: online version of the NYT article quoted and cited above.