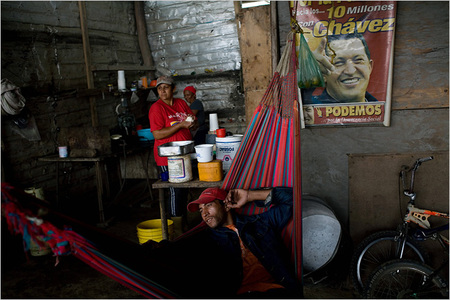 The frenetic pace of productive work at a Chavez socialist farm cooperative in Santa Barbara, Venezuela. Souce of photo: online version of the NYT article quoted and cited below.
(p. A1) Mr. Chávez's supporters have formed thousands of state-financed cooperatives to wrest farms and cattle ranches from private owners. Landowners say compensation is hard to obtain. Local officials describe the land seizures as paving stones on "the road to socialism."

. . .

(p. A10) But while some of the newly settled farming communities are euphoric, landowners are jittery. Economists say the land reform may have the opposite effect of what Mr. Chavez intends, and make the country more dependent on imported food than before.

The uncertainties and disruptions of the land seizures have led to lower investment by some farmers. Production of some foods has been relatively flat, adding to shortages of items like sugar, economists say.
For the full story, see:
SIMON ROMERO. "Clash of Hope and Fear As Venezuela Seizes Land." The New York Times (Thurs., May 17, 2007): A1 & A10.
(Note: ellipsis added.)