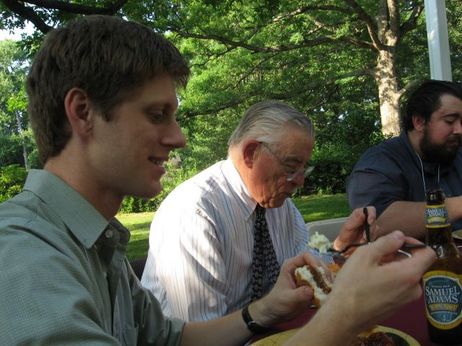 James Buchanan (center) flanked by economics graduate students at the the closing dinner of the 2007 Summer Institute for the Preservation of the History of Economics, held at George Mason University. (Source of photo: me.)
On the evening of Thursday, June 7, 2007, Nobel-prize-winner James Buchanan joined participants for their final dinner-gathering at George Mason's Summer Institute for the Preservation of the History of Economics.
As a young economist, you are advised that it is never productive to dispute the decisions of journal editors.
But Buchanan, in conversation during the dinner, mentioned that he had only once disputed a journal rejection–of an article submitted to the JPE during Harry Johnson's editorship. Buchanan said that he wrote Johnson a letter explaining that the referees had totally misunderstood his paper; Johnson read the paper himself, agreed with Buchanan, and published it.
This tells us something about Buchanan, but also something about Johnson. I never took a class from Johnson, but had a conversation with him at a party or reception once, in the last year or two before his death. All I remember about the conversation was that he was polite and respectful to an unknown graduate student, and that somehow we got onto the topic of car advertising.
I remember hearing that sometimes Harry Johnson whittled on wood carving projects during committee meetings. Someone asked him why he did that, and he is reputed to have responded that at the end of the meeting he liked to feel as though something at been accomplished.