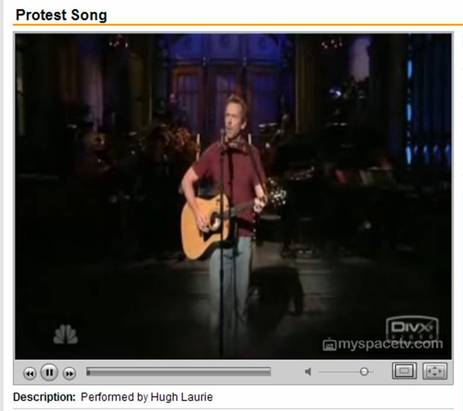 Source of image: screen capture from the first link below.
Hugh Laurie hosted Saturday Night Live (SNL) on a show re-broadcast on Sat., Aug. 11, 2007. (I am not sure if the original broadcast was in 2006, or earlier in 2007.)
In one hilarious bit, Laurie announces he is going to sing a "protest song" and proceeds to sing one of those earnest-sounding, pompous, self-righteous save-the-world-with-a-cliché songs that were so common in the late 1960s and the 1970s.
The hilarious bit: whenever Laurie gets to the part of the song where he is going to tell us the "answer"—- he mumbles.
After showing the clip to my principles students, I told them that to fill in the mumbling with something effective, you need to know some economics.
Here is a link to the SNL version:
http://myspacetv.com/index.cfm?fuseaction=vids.individual&videoid=3591518
The song was apparently first performed as part of a show called "A Bit of Fry and Laurie" that was broadcast in the early 1990s in Britain. Here is a link to the earlier version of the song:
http://myspacetv.com/index.cfm?fuseaction=vids.individual&videoid=14405597