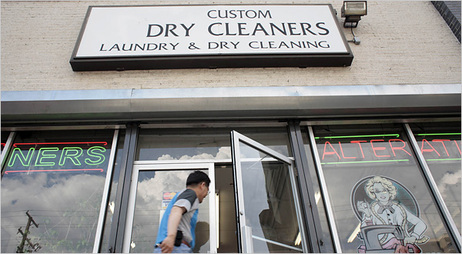 The Dry Cleaners that was sued for $67.3 million dollars, to compensate a Washington, D.C. judge for a lost pair of pants. Source of the photo: online version of the NYT article cited below.
WASHINGTON, June 12 — Roy L. Pearson Jr. wanted to dress sharply for his new job as an administrative law judge here. So when his neighborhood dry cleaner misplaced a pair of expensive pants he had planned to wear his first week on the bench, Judge Pearson was annoyed.

So annoyed that he sued — for $67.3 million.

The case of the judge's pants, which opened for trial in a packed courtroom here on Tuesday, has been lampooned on talk radio and in the blogosphere as an example of American legal excess. And it has spurred complaints to the District of Columbia Bar and city officials from national tort reform and trial lawyer groups worried about its effect on public trust in the legal system.

"I don't know of any other cases that have been quite this ridiculous," said Paul Rothstein, a professor of law at Georgetown University.

. . .

"You are not a we, you are an I," Judge Bartnoff said in one of several testy exchanges with Judge Pearson, 57, who is representing himself. "You are seeking damages on your own behalf, and that is all."

Later, while recounting the day he says the cleaners tried to pass off a cheaper pair of pants as his, Judge Pearson began to cry, asking for a break and dabbing tears as he left the courtroom.
For the full story, see:
ARIEL SABAR and SUEVON LEE. "Judge Tries Suing Pants Off Dry Cleaners." The New York Times (Weds., June 13, 2007): A13.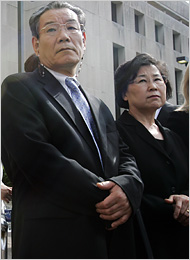 The Korean immigrant owners of the dry cleaners who were being sued for $67.3 million dollars. Source of the photo: online version of the NYT article cited below.