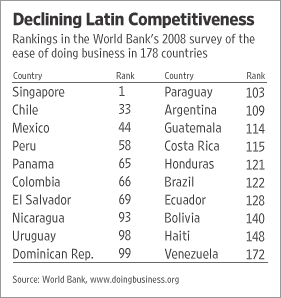 Source of table: online version of the WSJ article cited below.
(p. A18) Economist Joseph Schumpeter (1883-1950) may be best known for his innovative work showing the link between entrepreneurial discovery and economic progress.

But as Carl Schramm, president of the Kauffman Foundation of Entrepreneurship has pointed out, Schumpeter's insights about risk-takers didn't make him an optimist.

In a speech last year to European finance ministers in Vienna, Mr. Schramm explained Schumpeter's fears: He "worried that entrepreneurial capitalism would not flourish because the bureaucracies of modern government and big corporations would dampen innovation — the process of 'creative destruction' would be too ungovernable for a modern, Keynesian-regulated economy to tolerate." As a result, Mr. Schramm said, Schumpeter thought that "the importance of entrepreneurs would fade over time as capitalism sought predictability from governments who would plan economic activity as well as order social benefits."

Mr. Schramm's comments caught my attention because they so accurately describe Latin America. There the entrepreneur has been all but run out of town by the bureaucracies that Schumpeter feared. Growth has suffered accordingly.

The World Bank's annual "Doing Business" survey, released last week, demonstrates the point. The 2008 survey, which evaluates the regulatory climate for entrepreneurs in 178 countries, finds that Latin America and the Caribbean was the slowest reforming region this year and that it "is falling further behind other regions in the pace" of reform.

. . .

The most important lesson for Latin America from the World Bank's report is that its competitors around the world are working to unleash entrepreneurial spirits, and doing nothing is not an option. As Mr. Schramm told his Vienna audience, "Schumpeter saw what a century of evidence would prove: Socialism has not sustained economic growth." Now, if only more Latin American policy makers would catch on.
For the full commentary, see:
MARY ANASTASIA O'GRADY. "THE AMERICAS; No Room for Entrepreneurs." The Wall Street Journal (Mon., October 8, 2007): A18.
(Note: ellipsis added.)