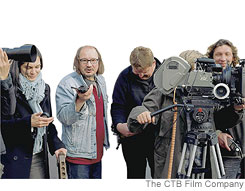 Some of the crew of Gruz 200, including the director Alexei Balabanov, who is second from the left. Source of the photo: online version of the WSJ article cited below.
(p. B1) The film is named "Gruz 200" (Cargo 200) after the zinc-lined coffins in which dead Soviet soldiers were shipped home from the 1979-89 war in Afghanistan. Messrs. Balabanov and Selyanov say they made the movie as an antidote to what they describe as rising nostalgia in Russia for the Soviet period.

"I show what filth we lived in," said Mr. Balabanov, a director sometimes described as Russia's Quentin Tarantino. "Society was sick from 1917 onwards," he added, referring to the year the Bolsheviks took power.

The film — a graphically violent story of the sexual abuse of a teenage girl at the hands of a sadistic Soviet policeman — paints a relentlessly negative picture of a time that many Russians recall with warm nostalgia. The filmmakers hope to release the movie overseas but haven't yet signed up a foreign distributor.

Russian President Vladimir Putin, who restored Russia's Soviet-era national anthem, has called the 1991 collapse of the Soviet Union "the greatest geopolitical catastrophe of the 20th century," and polls show a majority of Russians regard the period as one of relative prosperity, stability and national pride.

. . .

(p. B2) Mr. Balabanov says "Gruz 200" is based on his own experiences while traveling across the Soviet Union in the 1980s, as well as on stories he heard second-hand.

Mr. Selyanov says he believes it is his "duty" to remind people of what the Soviet Union was really like and combat the rising warmth for the period. "We have to fight this nostalgia," the producer says.

But the film has been dogged by controversy since even before it opened. Mr. Balabanov says three prominent actors who had played in his previous films refused parts once they read the script. "They were scared," he said. The director was forced to use largely unknown actors.

. . .

Russian TV networks, controlled by the state, have balked at even late-night showings — critical to financial success for Russian movies.

"We don't have the courage to put something like this on the air," said Vladimir Kulistikov, head of the No. 3 NTV network, in a statement.
For the full story, see:
ANDREW OSBORN. "From Russia, Without Love: New Movie Slams Soviet Union." The Wall Street Journal By (Thurs., June 21, 2007): B1 & B2.
(Note: ellipses added.)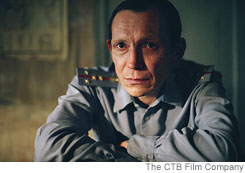 The sadistic police captain is portrayed by Alexei Poluyan. Source of the photo: online version of the WSJ article cited above.