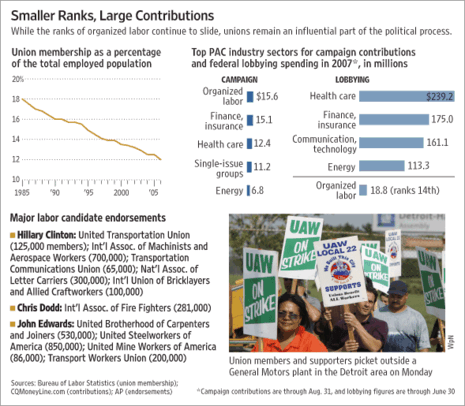 Source of graphic: online version of the WSJ article excerpted and cited below.
Union endorsements could provide a big boost with next year's early, front-loaded primary calendar. Half of all 15.4 million union members live in six states — California, New York, Illinois, Michigan, New Jersey and Pennsylvania — and all but Pennsylvania will have voted by Feb. 5.

Major unions have already split their endorsements between three Democratic candidates: Sens. Hillary Rodham Clinton and Christopher Dodd, and former Sen. John Edwards. Union leaders are loath to repeat the division of support that marred the 2004 election, where major unions endorsed Richard Gephardt and Howard Dean, wasting resources on losing candidates. Only one Republican candidate, former Arkansas Gov. Mike Huckabee, has picked up a major union endorsement.
For the full story, see:
NICK TIMIRAOS. "HOT TOPIC; U.S. Unions: Still a Political Power?" The Wall Street Journal (Sat., September 29, 2007): A7.