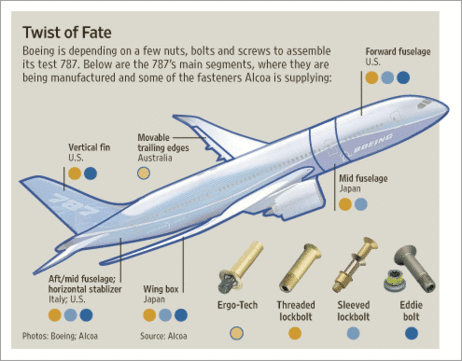 Source of graphic: online version of the WSJ article cited below.
Mr. Bair said Boeing is working closely with its primary fastener supplier, Alcoa Inc., to get enough high-quality titanium bolts to put the plane together in a logical fashion. Nevertheless, major components, such as the wings, arrived from Japan and other locations such as Italy and South Carolina held together by thousands of temporary fasteners.

The unexpected lack of fasteners marks the sort of test Boeing will face in coming years as it moves to fill a press of orders for the 787 and other aircraft amid an aerospace boom. . . .

. . .

Unlike previous airplanes, the Dreamliner is made largely of futuristic composites, which can't be held together with traditional aluminum rivets. Instead, the major sections are bolted together with specially coated bolts that fit into brackets at each joint. Each bolt must be individually made on a lathe — a process that can't be hurried. Because it takes time to set up the lathe, Alcoa would prefer to make thousands of one type of fastener before breaking the machine down and resetting it.

"Problem is, we don't need thousands of bolts right now. We might need 10 of one kind," Mr. Bair said.
For the full story, see:
J. LYNN LUNSFORD and PAUL GLADER. "Boeing's Nuts-and-Bolts Problem Shortage of Fasteners Tests Ability to Finish Dreamliners." The Wall Street Journal (Tues., June 19, 2007): A8.
(Note: ellipses added.)