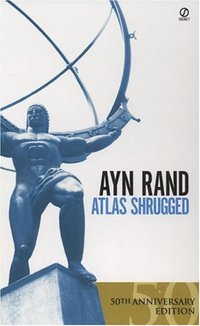 Source of book image: http://hoeiboei.web-log.nl/photos/uncategorized/atlasshrugged.jpg
David Kelley's op-ed piece, excerpted below, was published in the WSJ on October 10, 2007, the 50th anniversary of the publication of Ayn Rand's greatest novel.
Fifty years ago today Ayn Rand published her magnum opus, "Atlas Shrugged." It's an enduringly popular novel — all 1,168 pages of it — with some 150,000 new copies still sold each year in bookstores alone. And it's always had a special appeal for people in business. The reasons, at least on the surface, are obvious enough.

Businessmen are favorite villains in popular media, routinely featured as polluters, crooks and murderers in network TV dramas and first-run movies, not to mention novels. Oil company CEOs are hauled before congressional committees whenever fuel prices rise, to be harangued and publicly shamed for the sin of high profits. Genuine cases of wrongdoing like Enron set off witch hunts that drag in prominent achievers like Frank Quattrone and Martha Stewart.

By contrast, the heroes in "Atlas Shrugged" are businessmen — and women. Rand imbues them with heroic, larger-than-life stature in the Romantic mold, for their courage, integrity and ability to create wealth. They are not the exploiters but the exploited: victims of parasites and predators who want to wrap the producers in regulatory chains and expropriate their wealth.

. . .

. . . At a crucial point in the novel, the industrialist Hank Rearden is on trial for violating an arbitrary economic regulation. Instead of apologizing for his pursuit of profit or seeking mercy on the basis of philanthropy, he says, "I work for nothing but my own profit — which I make by selling a product they need to men who are willing and able to buy it. I do not produce it for their benefit at the expense of mine, and they do not buy it for my benefit at the expense of theirs; I do not sacrifice my interests to them nor do they sacrifice theirs to me; we deal as equals by mutual consent to mutual advantage — and I am proud of every penny that I have earned in this manner…"

We will know the lesson of "Atlas Shrugged" has been learned when business people, facing accusers in Congress or the media, stand up like Rearden for their right to produce and trade freely, when they take pride in their profits and stop apologizing for creating wealth.
For the full commentary/review, see:
DAVID KELLEY. "Capitalist Heroes." The Wall Street Journal (Weds., October 10, 2007): A21.
(Note: ellipsis in Rearden quote was in original; the other two ellipses were added.)